On March 13th, Chefs for Farmers will bring in some of North Texas' best chefs to personally operate a cafeteria line in order to raise awareness for a couple of worthy causes. Foodie heroes such as John Tesar (formerly of The Mansion), burger king-pins Jack Perkins (Maple & Motor), and Brian Luscher (The Grape) and recent award-winner Tim Byres (Smoke) will be slinging their creative and classic takes on cafeteria classics comprised from farm-fresh ingredients.
Guest judges, including television host Gary Cogill and restaurant luminary Gene Street will help guests decide which dishes are indeed the best as they pile on the culinary goodness atop their trays at the venerable Dallas eatery, the Highland Park Cafeteria. Dishes that will have participants salivating are Duck Meatballs, Wild Boar Sloppy Joes and even Tater Tots with Pork Belly, among many other tantalizing offerings.
If only the elementary school lunch planners of the world would get wind of this menu!
Of course, the dining is a fun cause, but the proceeds and notoriety that the event will generate will help causes that aim to help many others. The relatively new host organization, Chefs for Farmers, was formed in 2010 and exists to help create a greater awareness for North Texas-area farms and farmers. Sadly, such awareness is sorely needed, as so many farmers face uphill battles of many types on a daily basis.
The event's primary beneficiary, The Family Place, will receive a portion of the proceeds which will go a long way in helping Dallas' largest provider of family violence services continue to offer help and programs to thousands of victims of family violence each year.
More details are available at Chefs for Farmers website, as well as tickets to this worthy and tasty event. Go to www.chefsforfarmers.com to secure your place in line!
An all-star team of Dallas' top chefs celebrate local farms at a benefit dinner March 13 at the famed Highland Park Cafeteria.
Each Chef will take a classic approach to dining with farm-fresh ingredients, preparing two gourmet dishes to be served cafeteria-style. Guests (the event is kid-friendly, too!)  interact with chefs one on one as they grab a tray and walk the queue selecting from a multitude of comfort classics served up by DFW's finest. Complimentary old school style drinks will be served.
DJs Jennifer Miller and Paul Paredes will be mixing the tracks at this one-of-a-kind event with a special appearance by guest DJ/Chef Matt McCallister.
A portion of the proceeds benefit The Family Place, the largest family violence service provider in the Dallas area serving thousands of victims of family violence each year with award-winning programs that keep women and children safe. For more than 32 years, The Family Place's mission to end the epidemic of family violence has remained constant through intervention, emergency shelter, and crisis counseling for all victims, saving lives with transitional housing and case management, transforming lives for the better.
Founded in 2010 by Chef Matt McCallister and his wife Iris, Chefs for Farmers was organized to raise awareness for the importance of using local ingredients and supporting the farms and farmers in and around Dallas-Fort Worth and North Texas.
The feast begins at 4pm as each guest picks up a tray and walks the line.
Cost is $85 per person excluding tax and service fee. To purchase tickets just visit Prekindle online.
Highland Park Cafeteria is located at 1200 North Buckner Boulevard, Dallas, TX 75218 in Casa Linda.
Related articles
Did you know that The Family Place in Dallas kicked off its Partner Card program today? Neither did I until a little Texas Rangers fan birdie whispered in my ear this morning.
Today through November 7, 2010 when you purchase a Partners Card from The Family Place or participating retailers restaurants and your neighborhood Tom Thumb grocer, you'll not only save a ton of scrilla on the stuff you love, you'll also be helping a wonderful organization.
60 bucks will get you a Partners Card, but even better? 100% of that same 60 bucks goes directly to support The Family Place programs and services for victims of domestic violence in our community as Partners Card sponsors underwrite all administrative and production costs of the program!
Know what that means for The Family Place, ladies and gents?
ONE PARTNERS CARD PROVIDES
An infants diapers for three weeks
One night of shelter for a woman and her child
FIVE PARTNERS CARDS PROVIDE
Eight telephone crisis lines, 24/7 for four weeks
A two-month DART family bus pass so women and their children have transportation
TEN PARTNERS CARDS PROVIDE
Family medical supplies and prescriptions for four months
Emergency shelter, food and counseling for two children for one week
Know what that means for you?
Besides the fact that you're doing something awesome for your community, your Partners Card entitles you to a 20% discount at more than 750 participating retailers and restaurants for a ten-day period – October 29 – November 7, 2010.
Retailers and restaurants include:
Hugo Boss
David Yurman
Dooney & Bourke
Betsey Johnson
Avalon Salon and Spa
Forty Five Ten
Kathleen's Sky Diner
And so much more! Please click here for a full list of retailers and restaurants participating in this extraordinary program!
Sleep Experts this morning announced its 7th annual Share the Warmth Blanket Drive, benefiting Genesis Women's Shelter, and asks North Texas families to drop off new or gently used blankets at any of the company's 34 store locations, now through Thanksgiving.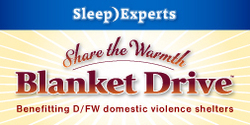 This year's drive shines the spotlight on teen dating violence, with Highland Park High School and Rockwall-Heath High School joining forces to collect blankets and raise awareness of this type of domestic violence.
Facts about Teen Dating Violence
Teens who are in an abusive dating relationship often do not recognize the dangers and are the least likely to share their experiences with friends or family members. Genesis Women's Shelter works to educate and promote awareness of relationship violence in the teen years, in order to prevent the occurrence of abusive relationships.

Consider the following statistics and visit LoveisRespect.org for more information:

40% of teenage girls ages 14 to 17 report knowing someone their age who has been hit or beaten by a boyfriend.
Violent relationships begin at an average age of 15.
Females ages 16-24 are more vulnerable to intimate partner violence than any other age group.
Physical and sexual abuse against adolescent girls in dating relationships increases the likelihood that the girl will abuse drugs and/or alcohol, develop an eating disorder, consider and/or attempt suicide, engage in risky sexual behavior and/or become pregnant.
The two schools will kick off Share the Warmth by collecting blankets on campus this week and encouraging students and their families to bring donations Friday night when the Class 4A football teams meet at Highland Park's Highlander Stadium. CBS 11 News, a Sleep Experts media partner, will be following both schools' efforts throughout the week, and its sister station TXA21 will provide complete Share the Warmth coverage during the broadcast of the Highland Park / Rockwall-Heath High School Football Game of the Week.
"Every November we ask North Texans to Share the Warmth with domestic violence victims through the simple gift of a new or gently used blanket," said Christine Cook, wife, mom and president of Sleep Experts. "This year we are thrilled that these two strong school communities are joining us to recognize the great work of Genesis Women's Shelter and raise awareness of teen dating violence."
Jan Langbein, executive director of Genesis Women's Shelter, says that Share the Warmth is about more than just sharing blankets. "We are sharing not only physical, but emotional warmth with women and children who may have fled their homes in the middle of the night to escape abuse, leaving everything behind."
In addition to blankets, Sleep Experts accepts donations of other items that provide warmth and comfort for shelter residents, including, sheets, pillows, comforters and towels. For a list of store locations and maps visit Sleep Experts online.