I think if I were to have stock in a company, it would be a large investment in Under Armour. The military is very specific about what my husband can and cannot wear under his ABUs – already expensive in their own right – and when the weather turns hot or chilly, we go with the Under Armour at our base exchange. It's costly on a military family's budget, but totally worth the investment, the Under Armour keeps him warm, dry and considerably less cranky.
So why am I bring this up?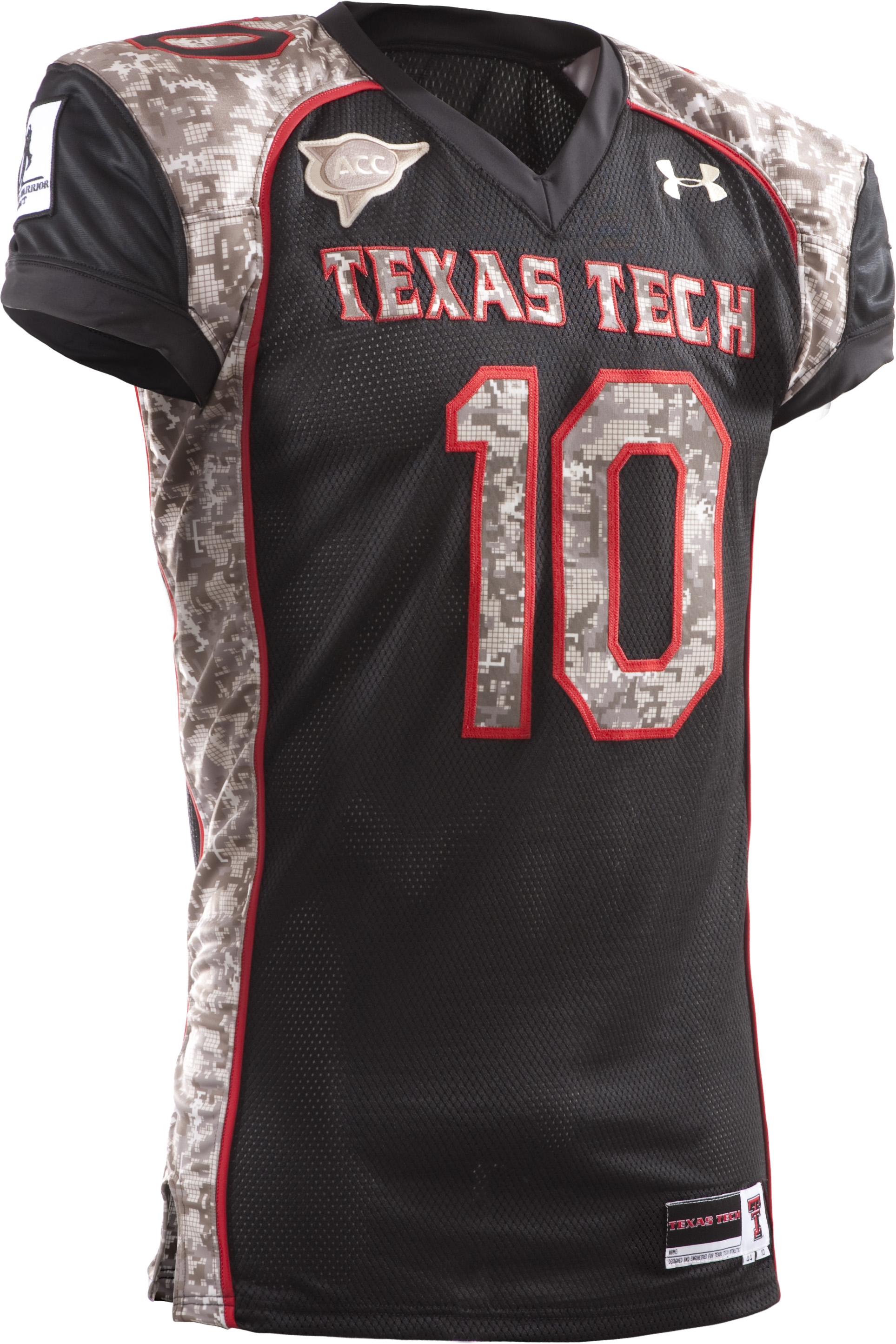 This morning I read that Under Armour has teamed with the Wounded Warrior Project in honor of our U.S. Armed Forces by specially designing football uniforms for Texas Tech and a handful of other collegiate football teams. This marks the second year Under Armour has designed custom uniforms to honor the U.S. Armed Forces, with cleats being a new addition for this year. Texas Tech is the official Under Armour Freedom game, and each Red Raider will have "Freedom" on the back of their jersey as a tribute the brave men and women that the initiative supports.
Texas Tech University Red Raiders, The University of Utah Utes, and University of Maryland Terrapins will be outfitted in head-to-toe custom digi-camouflage Under Armour uniforms and cleats for their game day match-ups versus the University of Missouri and Texas Christian University, respectively, on November 6, 2010. The University of Maryland Terrapins will feature their uniforms on November 20, 2010 against Florida State.
The uniforms were designed in an effort to recognize the sacrifices made by those who have served and those that continue to serve in our nation's Armed Forces. Each team will replace their last names on their jerseys with a core value embellishment – Duty, Honor, Courage, Commitment, Integrity, Country, or Service.
The custom game day jerseys will be auctioned off on each of the Universities' websites the following Monday of each game with a 100% of the proceeds going to Wounded Warrior Project. Under Armour school-specific fan gear will be on sale at university bookstores and UnderArmour.com with a portion of the proceeds going to Wounded Warrior Project as well.
Thousands of our nation's armed forces have been wounded during the current military conflicts. WWP assists wounded warriors and their families through a holistic approach to their recovery, providing programs and services to aid their physical rehabilitation and improve their mental health and well-being. WWP empowers warriors with essential tools to not just survive their injuries but to thrive and achieve personal and professional success. As part of UA Freedom, the collegiate football games that support Wounded Warrior Project demonstrate the ongoing commitment to honor our nation's wounded service members through monetary and product donations.
Join the effort by purchasing WWP/UA-branded product and by gifting an Under Armour® WWP backpack to an injured Soldier, Sailor, Airman or Marine.
Dallas Mayor Tom Leppert and the Dallas City Council have designated October 23, 2010 as "Taste of Greenville Avenue Day" in Dallas.
Mayor Leppert will present the official Proclamation to restaurant owners participating in the event at a ceremony on the VUE Apartments Stage during the second annual Taste of Greenville Avenue event, taking place on October 23, 2010 from 11am-7pm at 5700 Richmond Avenue. Mayor Leppert will arrive at TOGA at 11:45am, and the presentation will take place at 12:00pm.
The full text of the Proclamation reads
Whereas, Greenville Avenue is well-known for the wide variety of dining experiences available in hundreds of restaurants between Ross Avenue on the south to LBJ Freeway to the north; and

Whereas, in 2009, the Greenville Avenue Restaurant Association was established to create awareness and promote Greenville Avenue-area restaurants, artists, non-profits, retailers, the City of Dallas and businesses; and

Whereas, the first Taste of Greenville Avenue in 2009 attracted nearly 3,500 guests to an event featuring 24 restaurants and businesses; and

Whereas, the 2010 Taste of Greenville Avenue will feature more than 30 restaurants, nearly 20 businesses, several City of Dallas departments, two school choirs, five professional bands and ArtLoveMagic, a local organization devoted to celebrating local musicians, artists, illustrators and poets, to entertain an expected 10,000 guests; and

Whereas, the Taste of Greenville Avenue gives back to the community with financial support for the Robert E. Lee and Stonewall Jackson Elementary School Parent-Teacher Associations, and the Woodrow Wilson High School Marching Band; and

Whereas, the Taste of Greenville Avenue entertains the mind and satisfies the appetite in an affordable, safe, and family-friendly setting;

Now, therefore I, TOM LEPPERT, Mayor of City of Dallas, and on behalf of the Dallas City Council, hereby proclaim October 23, 2010 as Taste of Greenville Avenue Day in Dallas, Texas.
The Greenville Avenue Restaurant Association, LLC (GARA) was organized in 2009 to promote the variety of businesses along Dallas' most popular street.  The first TOGA event was held last year on the Granada Theater parking lot and attracted almost 4,000 guests to dine on food from 20 restaurants.  TOGA coordinators expect over 10,000 to attend the 2010 event.
Sponsored by Bud Light, Taste of Greenville Avenue 2010 will showcase over 30 popular Greenville Avenue eateries that'll be cooking up and offering their best small plate menu items which will range in cost of $2, $4, and $6. Restaurants participating include a few of Best of Texas' personal favorites: The Grape, The Libertine Bar, Nandina Restaurant and Quesa-D-Ya's.
For a full list of confirmed restaurants, click here.
And while you're taste buds will rejoice, TOGA and GARA have also ensured your ears will be satisfied, too. Live music will be featured on the VUE Apartments stage throughout the afternoon, emceed by KRLD's Mike Rogers. Local favorites include Paul Slavens' Chameleon Chamber Group, Scat Lounge owner Ricki Derek & The Vegas Six, Cliff Blues Band, King Bucks, featuring the formidable Joe Butcher and Danny Balis, and THe BAcksliders. And the stage manager in charge of it all? None other than Best of Texas favorite, Good Records!
Visually speaking and sponsored by Mitsubishi Motors of North America, ArtLoveMagic, a local organization devoted to celebrating local musicians, artists, illustrators, poets and more, will entertain children and adults alike.
While you'll need to pony up the scrilla for eating and imbibing, the event itself is free. A portion of the proceeds from food and beverage sales will go to benefit Robert E. Lee, and Stonewall Jackson Elementary Schools PTA programs, and the Woodrow Wilson High School Marching Band.
Taste of Greenville Avenue 2010
October 23, 2010
For more information call 469-777-TOGA (8642).  You can find TOGA on Facebook (tasteofgreenvilleavenue.org) and Twitter (@toga2010).
It is only upon rare occasions that I am allowed to watch a good horror film in our household. In fact, even suspense and psychological thrillers must be carefully vetted for their HStBHtBCtNG ratio before these types of movies are given permission to display themselves on our television.
What is HStBHtBCtoNG?
That's what I like to call my husband's Hand Squeezing to Blanket Hideout to Bathroom Cowering to No Go ratio – and before you accuse me of being mean to my husband, this is something he's done since he was a kid and I happen to find it absolutely adorable –  for example, 'A Haunting in Conneticuit' was deemed 3 parts Blanket Hideout, 2 parts Bathroom Cowering and 6 parts intense Hand Squeezing. 'The Shining' was deemed a No Go after a serious, single bout of Bathroom Cowering caused him to demand that the DVD be ejected. 'Aracnophobia' isn't even allowed in the house due to his fear of spiders.
That being said, I'm seriously thinking about feeding my thirst for horror films by attending this year's  Blood Bath 2 Film Festival . Last year's festival was held just outside Waco, this year however, the Blood Bath 2 Film Festival will be held in Dallas at the Texas Theatre.
The festival, running November 13th thru the 14th, will feature myriad independent horror films and shorts throughout the weekend, including the American premiere of Fell, the world premiere of both Koodie and The Super.
Tickets for the Blood Bath 2 Film Festival are on sale now and a pass for the entire weekend is just 25 bucks. And after party to be held on Nov 13th, will kick off at 10:00 p.m. at  Muddy Waters and will feature Whiskey Folk Ramblers and The Lash Outs.
Texas Blood Bath Film Festival
Nov 13th & 14th, 2010
The Texas Theatre
231 W. Jefferson Blvd
Dallas, Texas
Our favorite bakers at Bona Dea Baking Company has paired with Eating Beyond Limits to bring you an outstanding selection of Fall baking and cooking classes beginning Wednesday ,13 October, 6:30 PM .
All classes will be held at the commercial kitchen leased by Bona Dea at Congregation Beth Israel located at 3901 Shoal Creek Avenue in Austin.
Each class promises to fill your imagination and your tummy with a variety of delicious options to address most every dietary need. Choose to attend one or all four. Consider gifting a set of four to someone special who may be new to a gluten free diet.
Release your inner baker and join us!
October 13, Wednesday, 6:30 p.m.: Muffins in all their Glory – Using the Bona Dea Marvelous Muffin Mix turn out a wide range of products from assorted muffin flavors, quick breads to breakfast flips.
October 27, Wednesday, 6:30 p.m.: Secrets of Gluten free Sourdough breads – Learn to make your own sourdough starter and a variety of breads to meet your family's needs. Included is a discussion of preparing gluten free and dairy free soups to pair with your bread
November 10, Wednesday, 6:30 p.m.: Thanksgiving Sides – that just happen to be gluten free! Just because your Thanksgiving needs to be gluten free doesn't mean you have to live with a boring meal. Learn how to make gluten free dressings, sweet potato spoon bread, cranberry orange relish, and Indian pudding. There will also be information about how to make a tasty gluten free gravy, and of course, pies.
November 30, Tuesday, 6:30 p.m.: Happy Holiday Entertaining – Gluten free sweet and savory treats are the focus of this class designed to give you a range of options full of flavor but minus the gluten.
Class size is limited so make your choice early. Reserve your spot today!
Gobbler football, a chupacabra, art galleries, Bahnhof Cafe fried pickles, 19th century buildings and unique people did the trick to crown Cuero, Texas as one of the coolest cities in America, and the only one inTexas by Budget Travel Magazine.
Budget Travel created an online contest where twenty-one cities were highlighted and patrons could vote for the coolest.  The public voting began after the magazine received 147 nominations for coolness.  The magazine staff themselves also weighed in and just this month announced that Cuero was chosen as one of the ten cities throughout the United States to be honored as "cool."
Towns with a population of under 10,000 were eligible, but cool didn't mean quaint.  Budget Travel was looking for towns with an edge; places that were beginning to draw attention- and new residents- because the quality of life and restaurant scene, or proximity to nature.  They wanted cities with an edge- defined as avant-garde galleries, not country stores.
Reasons why Cuero is synonymous with cool?
Cuero is a place where you can find an excellent cappuccino from the local coffee spot, take a gourmet cooking class from a talented chef, browse through an art gallery filled with regional talent, buy a bottle of Texas wine, drive on streets designed to go around century old live oak trees and a filled with character and people who all have a story to share.
Frisco Square announces that the MarketPlace at Frisco Square will be hosting it's first ever Ladies Night Out event on September 28, 6:00-8:00 pm.
MarketPlace welcomes all ladies to join in for an exclusive evening featuring the artists of the boutique. Shoppers can indulge in taking advantage of surprise promotions by the merchants, as well as select drawings for prizes. Refreshments will be served.  R.S.V.P. to attend, 972.377.9400.
The MarketPlace at Frisco Square hosts more than 25 boutique businesses selling a variety of specialty items, such as women's and children's clothing and accessories, home décor, toys, gifts, and more!
"The owners of the MarketPlace recognize changing trends and needs of business and are excited to bring together creative entrepreneurs with the customers who love their creations, right in the heart of Frisco!"  said Julie Wakefield, Store Manager.
For additional information about the MarketPlace at Frisco Square, contact Julie Wakefield at 972.377.9400.
Ugh…nothing rankles nor raises my hackles more than the media's lust for continuing to stereotype Texans. Because, you know, when we're not totin' guns, we're gussying ourselves up, right?
But hey, who am I to judge.
The Style Network is currently searching for Dallas moms & their daughters for the second installment of the hit series, "Dallas Divas & Daughters".

Do heads turn when you two walk by? Are you sometimes mistaken for sisters? Is your lifestyle the envy of everyone in your town? Are you crazy for couture? Do you have a love/hate relationship? Do people always tell you, YOU should have your own TV Show? Producers want to know!

To be considered, email us right away! Please include contact information, a current photo and your story.

Eligible candidates must live in the greater Dallas, Texas area and daughters should be high school to college age.

bonnie@4thfloor.tv

(818) 325-6911
Irving, Texas resident, Abby Bagby, has been named a finalist in MATRIX's national competition – MATRIX Mannequin Mania – and could possibly win $25k and a day with Bravo's celeb stylist Tabatha Coffey. Bagby is a graduate of Tulsa Tech in Tulsa, OK  and her submission "Jacqueline" has earned her this top honor in the Student category.
MATRIX, a leader in haircare, invited stylists nationally to harness their creativity and submit a mannequin with a personality and unique style. There have been almost 10,000 entries, and Abby has been narrowed down to one of the final 12!
To vote for Ms. Bagby – voting began Wednesday and runs through October 31st – go online here or vote via text message by sending the word Abby to 49737!
Gawker is reporting that Amarillo denizen and Koran hero, Jacob Isom, who you may know as the internet sensation who grabbed and saved Repent Amarillo's David Grisham's copy of the Quran before it burned, is going to get his greatest wish in life: To be featured in High Times:
After yesterday's report that rattail-coiffed Koran savior Jacob Isom'sdream was to be featuredin High Times, the doobie denizens agreed to feature our rattail-coiffed hero in the pages of their vaunted magazine.

On its website, High Times thanks Jacob for his "bravery in the face of intolerance" and promises him a place in an upcoming issue. By phone, Jacob told me that he talked to a representative from the magazine today who said they'll be overnighting him a package of High Times merchandise. He will then take pictures, and High Times will post them on their website. A comic-book-style summation of his harrowing defeat of Amarillo, Texas' wannabe Koran burners may also be in the works.
Related articles
I can't wear lipstick. I literally and magically am able to make it disappear within a matter of seconds after application, so I'm a super HUGE fan of Urban Decay's lip stains. They stay on and I can glam up my pucker with Greedy or opt for a more natural lip with Envious!
So I'm super excited to tell you guys that the bad assery that is Urban Decay is embarking on a three day tour of Texas ULTA stores to launch their much anticipated fall collection! Yee. Haw.
Urban Decay's International Make-Up Artist, Eric Jimenez, and his team of 'A-List' artists are offering makeovers as well as sharing tips and tricks to achieving the season's most coveted looks – deep lips, neutral eyes, dewy skin and LOTS of lashes.
Everyone who spends $75 and over will receive a FREE goody bag with the following cult favorites:
Stardust Smart Sample (Retrograde/Space Cowboy)
De Slick in a Tube Smart Sample
Flipside Big Fatty Mascara Full Size
WHEN: Friday, September 24th – Sunday September 26th
WHERE: ULTA Stores
Friday, September 24th
3000 South Hulen, Suite 1
Fort Worth TX 76109
Saturday, September 25th
3333 Preston Rd
Frisco, TX 75034
Sunday, September 26th
11661 Preston Rd
Dallas, TX 75230
Related articles